The Impressionist of the XXI Century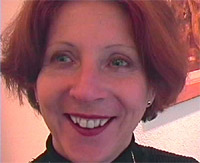 Adriana AUDERSET came to St. Petersburg, Russia by invitation of the Russian Academy of Sciences, St. Petersburg Scientific Center, to promote the " 300 Anniversary of St. Petersburg 2003", from April to December 2001. This project promotes tourism as well as business and cultural relations in St. Petersburg. She has worked in tourism, as tour operator, manager, guide and interpreter. She has also assisted as secretary and interpreter in the administration and secretariat of International Organizations: the High Commissioner of Refugees, the United Nations, the Red Cross Committee, and the World Wide Fund for Nature, in Geneva and abroad. Adriana has travelled in over 70 countries in the last 30 years. She is a Swiss national, polyglot and computer literate.
The project was launched during "The Days of Switzerland in St. Petersburg". Adriana's Personal Exhibition "Great Swiss in St. Petersburg", opened on November 6, 2001in the National Library of Russia, Nevsky Prospect, in the presence of Ms. Madleine Luthi, the Honorary Consul General of Switzerland, as well as Russian authorities and the press. The organizers of "The Days of Switzerland in St. Petersburg": the Administration of Saint-Petersburg; the Consulate General of Switzerland; the Russian-Swiss Bureau. Her exhibition was in honor of all Swiss, (architect Trezzini), who have worked in St. Petersburg and who made great contributions to the city. She gave press conferences to TV and Radio, assisted at ceremonies, meetings, seminars and parties.
the opening ceremony in Peter and Paul Fortress,
the Gala Reception in the Marble Palace,
the Swiss Russian Cheese Party in Hotel Astoria,
the Russian-Swiss seminar "Drugs policy" in Smolny;
and the Center of Ecological Problems,
the Swiss Hotel Management School of Glyon, seminar on "Education in Switzerland",
the presentation of the musical film "1812" by S. Debizhev, in an oriental Restaurant, (private meeting with Mr. Yakovlev, the Governor of St. Petersburg).
Adriana's second Personal Exhibition "the Impressionist of the 21st Century", opened on 21 November 2001, in the French Russian Club, on 34 Griboiedov. Adriana gave a press conference for the news and other channels. The art of working with colours has helped her on the path of self-realization that she started in the 80ies in India. Her paintings come as a result of her meditations and she uses colours and motives that are healing, harmonious and speak to the soul. She would like to share her paintings to encourage others on their path. She believes that the love for truth and self- knowledge is the cornerstone for all spiritual life.

She also presented the program of Sion, that has allowed her to work in Russia. She gave the Academy of Science the opportunity to talk on TV. She organized the export formalities and certificates for her work. Russian Artists had warned her that if she did not have stamped official export paper for each one of her paintings the custom officials at the airport would seize her work and that this would probably be the last time she would see it. The process of clearing all her work with the Committee of Culture, was expensive time consuming and frustrating, however she was able to take her art out of Russia without problems with corrupt airport officials.

She arranged the transport in September 2001, of one ton of medicine from Sion to St. Petersburg, addressed to the Academy of Sciences. The medicine arrived, but is now lost. · She gave public talks in the House of Friendship about Switzerland in English. · She produced an English Russian press booklet, for the exhibition. · She had many meetings with Airport & Custom Officials, Business people, Film makers, Art Experts, Artists and Painters. · She arranged with the Glion Hotel Management School, an invitation for a journalist to Switzerland · She gave language as well as interpreters' training. as she believes that foreign languages are one of the keys to opening and developing oneself. · She worked with Russian artists, studied painting techniques, Aquarelle, Iconographie as well as Oil. · She designed her Web site, please click www.perso.ch/aauderset · Adriana produced a film of 9 minutes "Russia through the eyes of Adriana".

Adriana as well as other participants of the program were harassed and physically aggressed. One participant had to go to hospital after having been beaten up by criminals. Adriana was maltreated by her landlady and found herself locked out of the flat she had rented and paid for. At midnight when she came back she found that the landlady had locked the door from inside with all Adriana's belongings inside. She was on the street without her belongings. Only on the next day was she able to reclaim her belongings together with the help of some friends. The landlady had double rented the flat. Adriana did not have any contract.

The Academy of Sciences who was responsible for accommodation never bothered to get a legal contract. It is a simple procedure according to the Russian law that gives you the right to protect yourself both with the help of police and the Russian court. But Ms Svetlana Sergeeieva, the Visa official of the Academy of Sciences never did it. Adriana would recommend professional management. It is possible to get information about accommodation right from the owners; to sign contracts legally to make it safe for the foreign participant however Russians try to avoid it not to pay taxes. The taxation now is 13% only so there is no reason for cheating. The way the project is managed now is contra productive. A capable manager would prepare the trip for every individual, helping to find partners in his necessary fields. A person who is professional, qualified, ethical and altruistic. The Russian lessons recommended by Ms Sergeeieva are with inexperienced students with no method, they are a waste of time and money. Russia has highly qualified professionals who teach for very reasonable money. There is a special course called "Russian for foreigners" at the University that gives special training for Russian tutors. So it is quite easy to find qualified teachers if the Academy ever tried. Adriana initiated all her projects and all her work on her own, she had no help or support from the Academy of Sciences.

In December 2001Adriana had to leave her suitcase with all her personal belongings and her painting material with Ms Svetlana Sergeeieva at Pulkovo Airport. Adriana had to take home her creations of the two exhibitions. To send freight from Russia needs special procedures with customs. Adriana had no more time and resources to organise this freight. She had asked Ms Sergeeieva to keep her belongings in a safe place until she would be able to pick them up, in May 2002. Her Interpreter Ms Elena Smetana as well as her press officer, Angelina Davidova were present at the airport, when Adriana handed her suitcase over to Ms Sergeeieva. They can both testify. Adriana got her suitcase back, it had been emptied. All her painting material, two holy crosses as well as her clothes were stolen. Adriana informed the Swiss Consul about the theft of her belongings. Ms. Sergeeieva denies that she was entrusted with this suitcase. The total amount of the stolen goods are about one thousand dollars.

Safety is a problem the city administration has to address. Adriana thinks that the Russian authorities should revise some of their policies in regards to foreigners and tourism. First of all foreigners should feel save. Not only criminals harass foreigners but also money-grubbing visa officials. Foreigners report about such events every week in the St. Petersburg news. Russia has a lot to offer and Adriana is looking forward to further collaboration.

Adriana is at present developing her Internet site as well as working on her second documentary film in Russia. If you would like to support the artist please send your donation to

UBS AG Geneva
Swift Code UBS WCHZH12A
AC No 279 D710466.1 ($US)
A.Auderset (project Russia)


You can be mentioned as donor on her second film or on her next exhibition. Thank you.
A Lotus for you
21.06.2002

Art is free,

since it arises from a free creative urge.

Art is unique,

since it's only source is the soul.

Art is symbolic

Art is eternal,

since it is the reflection of the eternal in the transient.

To end Adriana would like to share A prayer,of Thich Nhat Than, Vietnamese Zen Master and peace activist, Living in Plum village France ,

May I be peaceful, happy and light in body and spirit, May I be safe and free from injury, May I be free from anger, afflictions fear and anxiety, May I learn to look at myself with eyes of understanding and love, May I be able to recognize and touch the seeds of joy and happiness in myself, May I learn to identify and see the sources of anger, craving and delusions in myself, May I know how to nourish the seeds of joy in myself every day, May I be able to live fresh, solid and free, May I be free from attachment and aversion but not be indifferent.

Thich Nhat Hanh